This post may contain affiliate links. See our disclosure policy for details.
When designing a Mid Century dining room, we look for both classic MCM style and functionality for entertaining. You can create a beautiful, stylish dining room and still have storage for your antique plates and barware. This post includes our top must-haves for a mid-century modern inspired dining room space that you will love sharing with your guests!
Mid-Century Dining
Mid-century modern dining room spaces should be centered around a few classic pieces; modern dining tables, dining chairs, and storage. Other accessories will be added once you have pick a color palette and created your mid-century aesthetic to start. From Scandinavian style to art-deco, we will cover our favorite looks for a modern dining rooms in the following post.
Additionally, if you're feeling inspired by our selections, we recommend browsing the coordinating pieces for your living from these Mid Century Modern sites:
Eternity Modern
Scandinavian Designs
Smart Furniture
Below you'll find our top furniture picks along with some affordable options to check out when you're looking for your just-perfect-piece.
1. A Classic Small MCM Dining Room Set
Firstly, The Cress Round Dining Table set from Scandinavian Designs is a great addition to any dining room. This American Walnut Finish table will make your dining room complete with its simple and classic style. We especially love it paired with the Fuchsia dining chair (shown above). Shop other Scandinavian Designs furniture here.
2. A Classic Mid-Century Modern Dining Room Chair
Secondly, the Harper Dining Chair by Modloft make a gorgeous addition to any mid-century dining room set up. Wrapped in a walnut shell, these chairs are both classic and stylish. They look especially great around smaller tables, but would also look good on a larger expandable mid-century table.
3. Best Mid-Century Dining Table on a Budget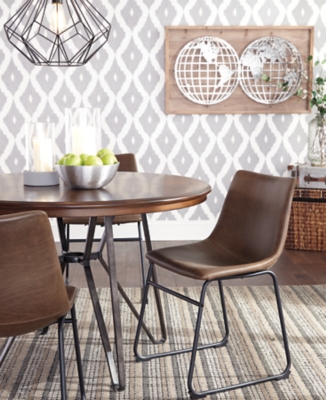 The Centiar dining table by Ashley has a tubular base that serves up a fun twist on classic mid-century style. This is a great affordable starting piece of furniture for apartments or those with smaller spaces by wanting to add some pizazz to their room.
4. Mid-Century Dining Table For Large Gatherings
The Cress Dining Table comes in both 71″ and 87″ options, making it a great choice for larger parties. Additionally, the angled legs make this beautiful table with a walnut finish a classic mid-century addition to your room.
5. Farmhouse Meets Mid-Century Modern
The Plank Dining Table by Gus Modern has a mid-mod meets farmhouse look that will certainly work with a variety of home designs. Sit up to 6 people comfortably at your table for years to come in this quality piece of furniture.
6. Mid-Century Dining For Two
The mid-century style bar set by Lexmod is great for a small entertaining area or smaller dining room. With both sleek lines and gold accents, this brings glamorous energy and an art deco style to your lounge area.
7. A Statement Piece With A Stunning Base
The Oleander Dining Table is made of solid walnut and glass and resembles a refined work of art. We especially love this table paired with white dining room chairs for a classic and understated dining room or breakfast nook.
8. Classic Mid-Century Modern Structure
Another piece with a fantastic statement base, the Crossroads 63″ Oval Pedestal Wood Dining Table from Lexmod makes a fantastic focal point of any MCM dining room.
9. Wooden Chairs for Mid-Century Dining
The Lecture Chair by Gus Modern is a classic mid-century wooden chair that feels like an old school chair.
10. Velvet Art Deco Chairs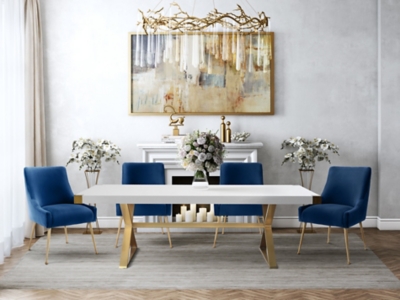 An elegant addition, we highly recommend the Beatrix Navy Velvet Side Chair by Ashley to add a pop of color and glamour to your dining room. Also looks great as an accent piece in any home office or living room.
11. Classic Mid-Century Modern Dining Chair
The Juneau Dining Chair by Scandinavian Designs is a classic mid-century modern style chair that will suit almost any dining table. This understated piece has a cream fabric seat and tapered legs.
12. Curved Mid-Century Velvet Chairs
The vintage glamour of these golden velvet chairs by Lexmod will elevate any mid-century dining room. We love both the sleek look of vegan leather and simple, modern styling of the angled legs.
13. MCM Chairs That Scream Fun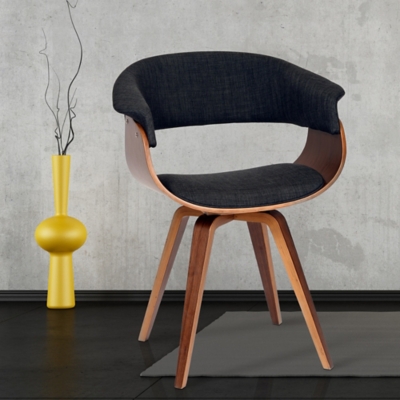 The Summer Chair by Ashley is a great comfortable piece to sit for long stretches (including holiday meals) and a fun addition to any mid-century dining room.
14. Our Favorite Mid-Century Bar Cabinet
The Hendrick Low Cabinet by Scandinavian Designs is a great addition to any mid-century dining room. This timber brown piece crafted with poplar wood is durable and can be used to store essential home bar essentials. Shop other Scandinavian Designs furniture here.
15. Mid-Century Modern Dining Serving Tray
We love this walnut Oyer Oval Serving Tray from Scandinavian Designs. It makes a classy backdrop for cheese spreads or charcuterie but would also be lovely for under a centerpiece.
16. Add a Pop of Color to Your Dining Table
If color is more your thing, you may opt for the brightly colored Etne Round Serving Tray instead. This fun large circular design is great for hosting gatherings or just organizing miscellaneous items on your favorite desk. Additionally available in red and blue.
17. Curio Cabinet for MCM Dining
The Fakana Curio Cabinet from Scandinavian Designs is a great storage piece for your living room or dining room. Installed LED lights in this piece help showcase your most precious collectables.
18. Mid-Century Rugs for Dining Room
Finally, The Tunis Rug in beige from Scandinavian Designs is a subtle nod to exotic globally-inspired rugs. This stunning rug is great for both dining rooms and living rooms, but would also be a nice fit for casual office spaces.
---
For more modern interiors: