This post may contain affiliate links. See our disclosure policy for details.
Don't worry if you are design-obsessed, your baby's room can incorporate the same classic, timeless style as the rest of your home with this mid century modern nursery furniture. This post includes our top must-have items for an amazing retro, fun, and mid-century modern nursery.
Mid Century Modern Nursery Must Haves
A perfect mid-century modern nursery combines functionality with both comfort and style. You are going to be spending a lot of time in this room; it only makes sense to deck it out in the decor that brings you the most joy. Below, we showcase our favorite retro-style cribs, bassinets, lounge chairs, changing stations, and wallpaper that both you and your baby will enjoy.
Mid-Century Modern Cribs for Your Nursery
Your baby's crib is the centerpiece of your nursery, providing a place for your darling to both sleep and play. Additionally, use these cribs for years with the option to convert into a toddler bed as baby grows.
The classic option: Sprout 4-In-1 Convertible Crib + Toddler Bed by Modern Nursery is a classic piece with mid-century flair for any stylish household. We love the chestnut/natural color (pictured here), but it also comes in white and washed neutral. This long-lasting crib easily transitions as your babe grows from crib to toddler bed and daybed. Additionally, keep this crib for years to come with the full-sized twin bed conversion kit, sold separately.
The luxury model: This Pod 2-in-1 convertible crib by Ubabub is an option we HAD to add to this list. This cozy, cocoon-shaped crib includes smooth, rounded edges for a distinct modern look. It also transitions into a unique toddler bed and used for years to come.
A Stylish Choice: The Nifty Toddler 3 in 1 Crib is another long-lasting option by Ubabub that we love. Available in both Natural Birch and Walnut finishes, these solid cribs convert to toddler beds for years of use. Cylindrical, slanted legs will give your nursery and open and airy feel while maintaining the modern design throughout your room.
The Mid-Century Modern Bassinet
If baby is not headed directly to a crib, this Aura Metal Bassinet by Nursery Works is an art-deco and rattan furniture inspired piece that is amazing. This bassinet is perfect in nurseries from lavish to minimalist and from Hollywood Regency to modern understated. This versatile piece will look beautiful as you move from room to room but especially convenient for next to your bed at night.
Stylish Rockers for Your Mid Century Modern Nursery
While little one will spend a lot of time in the crib, most of your time will be spent seated! Rockers provide a soothing motion for babies, helping to calm them while eating or getting ready to sleep. The below options are a modern take on the traditional rocking chair that will keep your comfortable as you comfort your baby.
We absolutely love the modern look of the Sleepytime Rocker by Nursery Works. Additionally available in nine color and finish combinations, this rocker provides a comfortable and stylish seat to rock your baby.
For ultimate comfort, check out the Weeble Rocking Chair by Dadada. This stylish chair provides your body with maximum neck and back support and is available in two, neutral gray options.
Much Needed Organization For Your MCM Nursery
For such small people, babies collect a lot of stuff! Keep your nursery looking tidy and minimal with accent pieces that provide both safe and convenient storage for baby's belongings.
Great for smaller rooms, the Rowan Chest from Scandinavian Designs is a great way to organize all of baby's belongings.
The Origin Four Drawer Chest or Stand in Walnut White from Lexmod is perfect if you need additional space. Crafted with durable fiberboard, this piece is easy to clean and reliable – perfect for your mid-century modern nursery.
This mid-century end table from Lexmod is the perfect place to stow away small essentials. Originally designed as a bedroom, this sturdy, modern side table with its rounded corners would be lovely in baby's room. Available in white and walnut finishes to match your decor.
The Realm Bookcase in Walnut by Lexmod has three tiers to stylishly display all of your favorite toys and books. This design offers a modern alternative to basic cube storage shelves. The classic mid-century design together with the slanted dowel legs is the perfect finish to any nursery!
A Classic Mid-Century Modern Changing Station
A changing table may or may not be essential for your Mid Century Modern nursery. While many parents love the ease of having all of their diapering needs in one place, others prefer alternative solutions such as a mobile, stocked diaper bag and/or changing on the furniture or the floor. The benefits of a changing table are an organized space and a safe area to change baby while standing comfortably. We love the look of the options below.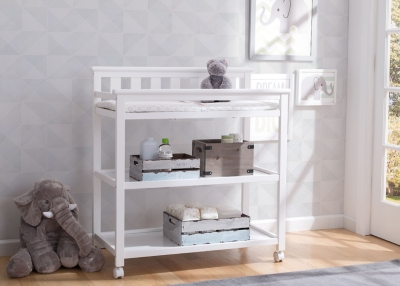 We love the Delta Children Flat Top Changing Station with wheels from Ashley, inspired by the classic mid-century bar cart! Baby will be save and comfortable, and you can be mobile with this wheeled changing station.
Whimsical Wallpaper for Your Nursery
Wallpaper can bring a sense of whimsy to your nursery with a fun accent wall or more neutral overall design. This is a great alternative to a painted mural or hanging wall decorations. Our favorite source for wallpaper is Spoonflower, offering both whimsical nursery themes and modern paper for your home. Just a few of our favorites are below.
This pastel wallpaper by Spoonflower is lovely for an accent wall for baby's nursery. Both its understated tones and painted chevron pattern bring a beautiful, modern touch.
We love this wallpaper with woodland animals by Spoonflower that will grow with your child through the early years. Adorable theme for a small accent wall or surprising feature inside a closet.
This geometric wallpaper by Spoonflower is a great gender-neutral wallpaper for any modern baby's room. The gentle taupes contrast with pops of yellow, giving this paper a cheery but not overwhelming look.
Cute Mid-Century Nursery Accessories
A fun wall clock like The Nelson Ball Clock by Vitra adds classic mid-century whimsy and charm to any nursery. We love this atomic-inspired style!
For additional options for your nursery, we recommend checking out the Mid Century inspired furniture from Modern Nursery.